Learning to scuba dive, FAQ'sPublished 16/04/2019
Learning to scuba dive, FAQ's
Having spent the past 15 years as a scuba diving instructor, 11 of which running underwater adventures, I have been asked every scuba diving related question you can think of, so to help you with deciding if you want to learn to scuba dive I thought I would write out a list of the top frequently asked questions (FAQ's) I have been asked in all of my years in teaching people of all ages to learn to scuba dive.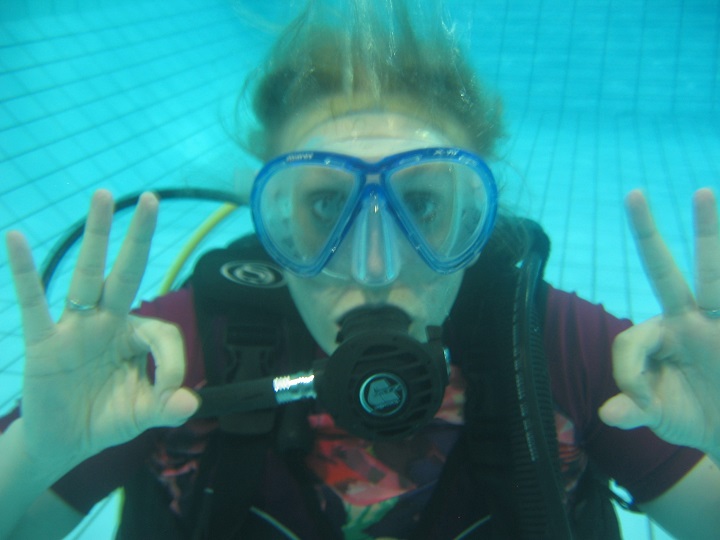 How long does it take to learn to scuba dive?

The standard PADI open water course consists of dive theory, 5 confined water (pool) dives and 4 open water dives and it is the same with most other training agency's including SSI and BSAC courses and these should take you at least a week to complete the full course although you might find shorter courses in holiday resorts which can last as little as 3 days.

At underwater adventures, we want you to learn to scuba dive at your own pace so instead of limiting you to just 5 confined (pool) dives, we offer you unlimited access to our pool sessions so if you feel you need longer to learn a skills you can take your time and only move on when you feel ready. We have found that this leads to more confident and relaxed divers who enjoy their first few dive a lot more. We do obviously charge a little more for this but we feel you will enjoy it more and make you a better diver; this leads me on to my next FAQ

How much does it cost to learn to scuba dive?

The standard price as of writing this here in the UK is around £500 for the full PADI open water course and as I mentioned above we do charge a little more at £549 due to us offering the unlimited confined water (pool) sessions. The price will vary from country to country with the dive centres in tropical holiday spots tending to be the cheapest option due to the high numbers of students they allow on each course, the more people on each course the cheaper it is to run the course, but you will still be looking at around £300-£350 in these holiday resorts. If you find one that is much cheaper than this I would strongly recommend you ask yourself why it is that much cheaper as in scuba diving, as in most things, you get what you pay for and going with the cheapest is not always the best idea.

How deep can you scuba dive down too?

The deepest scuba dive ever was in Egypt in 2005 by Ahmed Gabr who got down to 332.35 metres. This dive took him over 14 hours to complete due to the amount of time he had to spend decompressing on his way back up but most of us will never go anywhere near that depth as we are mostly all recreational divers.

The PADI recreational dive limits, I'm using PADI as that is the agency I teach with so I know the most about but most agencies are the same or at least very close, are for an open water diver (entry level) 18 metre's which increases to 30 metre's once you complete your advanced open water course and then it goes up to the maximum recreational limit of 40 metre's with the deep diver course.

These are the recreational diver limits and you can go deeper if you wish by completing technical diving courses which slowly build up your limited with time and experience as the deeper you go the more things can go wrong so you want to be as prepared as possible before going really deep.

The thing I always tell my students who ask me this is that most of the cool fish and stuff like that tend to be around the 15-25 metre range so sticking with those depth means you will be able to see most things and not miss out on too much.

How long will my air last?

This is one of those "how long is a piece of string" questions as it will depend on a number of different factors such as how much experience you have, how relaxed you are, how deep you plan to dive to, how much work you have to put in any currents there are, and a whole range of other things. Generally speaking, all thing being considered, a relaxed, experienced diver with good trim who is staying around the 20-metre mark will stay down for around an hour. But Like I said, there are a number of factors that will affect your air consumption and one of the best things you can do is learn to scuba dive properly, with proper weighting and good buoyancy control and you will find that you will be able to stay under the water for as long as you need for the dive you are planning.

Which agency should I learn to scuba dive with?

PADI, SSI, CMAS, BSAC, NAUI, SDI, SSA, PDA, It's like alphabet soup when you look at all the names of the different training agencies you can learn to scuba dive with and it can seem a little daunting to choose the right training agency to go with but in all honesty, they will all teach you to scuba dive safely and they will all cover the same basic skill's during the course, just with some of the extra skill's within the course is slightly different.

Obviously, the larger agencies such as PADI and SSI are better known around the world but even the smaller agencies are recognized in most countries, although the dive centre you go with may have to do a little research to check the limits a qualification from a smaller agency has. So ultimately it doesn't highly matter which agency you go with, what really matters is that the dive centre teaching you sticks to the standards and the instructors who are teaching you do a good job and make you feel comfortable so it is important to do a bit of research before booking looking for good recommendations for divers who have done courses with them before.

Do I need to be able to swim?

Yes, but you don't have to be an Olympic swimmer, you just need to be comfortable in the water so you don't panic when you are in water too deep to stand in. For the PADI open water course, you do need to be able to swim 200 metres but there is no time limit and you don't have to do a certain type of stoke while swimming, you can doggy paddle if you like and take an hour to complete it. As I said, it is more about making sure you are comfortable in the water while you learn to scuba dive.

If you can't swim already or would like to improve we do have a number of contacts at swim schools who can help you and we are happy to put you in contact with them.

Can my children learn to scuba dive?

We can start children's scuba diving courses from the age of 8 with the PADI Bubblemaker, PADI Seal Team, and PADI master seal team courses which are designed to get children accustomed to scuba diving in the safety of a swimming pool before they are old enough to move up to the full PADI junior open water course at the age of 10. From the age of 10 to 12 there are limits on what children can do with their open water qualification like only being able to go to 12 metres rather than the 18 metres you can with the full PADI open water course for safety reasons but it is great to get children into the water early in life as they learn so quickly at this age and from my point of view, children are a pleasure to teach.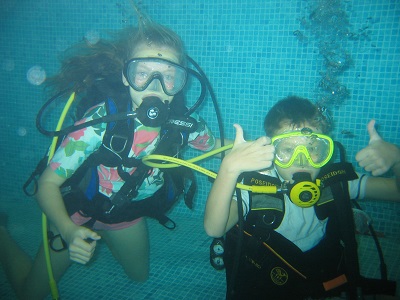 I have a medical condition, can I still learn to scuba dive?

I have added a link
here
to the padi medical statement so you can take a look through it and if you tick yes to any of these questions you will need to speak to a scuba diving doctor before we can allow you in the water but generally, as long as the medical issue to under control, there is not normally a reason why you can scuba dive with most medical condition. But do read through the PADI medical statement first and if you have any questions please feel free to contact us and we will be happy to put you in contact with a specialist scuba diving doctor who will be able to help you.

Do I have to have all my own equipment before I learn to scuba dive?

Generally speaking, No. Like most dive centres we offer rental equipment for the course which is included in the price of the course although we don't hire out wetsuit boots as here in the UK it is very hard to get them completely dry between dives so if you are sharing wet boots nasty things can spread. Some dive centre may ask you to buy your own mask, snorkel, and fins but this is the exception to the rule as most dive centre will be able to provide you with everything you need.

Once you have learned to scuba dive you may wish to start investing in your own equipment which is fine but I would suggest starting slow and just picking up a few basics to start with so that you have time to dive with other equipment and learn more about it before buying the big things as it can start to get expensive and you don't want to rush out and buy a load of kit only to find out it doesn't feel right for you or you decide to want to move into another type of scuba dive where you need slightly different kit setups like underwater photography or wreck penetrations.

I'm afraid of being eaten by sharks

This is probably one of the most asked questions I get, or at least something similar. Don't worry, despite what Hollywood is telling you, sharks have no interest in eating a scuba diving. We are covered in think rubber and have a large lump of steal on our backs which makes us not very tasty and a lot of hard work for any shark big enough to take a bite. In fact, once you have started scuba diving you are the one most likely to be chasing sharks just so you can get a good picture of them to show everyone just how cool sharks are.

I'm nervous about scuba diving, is that a problem?

Have a few nerves is totally normal, you are about to breath underwater which is something you have never done before. So don't worry if you are a bit nervous before you start to scuba dive as this is to be expected and as such, your instructor will be ready for it and take their time with you to make you feel comfortable in the water and won't push you to do anything you are not ready for. If you are really nervous about scuba diving then why not do a discover scuba diving session first, where we will take you in the pool with the equipment so you can have a go and see if you like it before signing up to the full course?

So why not take the plunge and contact us to book you try dive or full PADI open water course?