The PADI master seal team course is the next stage on from the PADI seal team course with 10 exciting Aquamission which allow your child to learn even more about the scuba diving, the underwater environment and what we might be lucky enough to see down there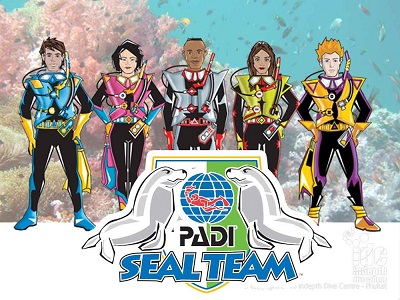 During the PADI Seal Team Course, your child will have learned the basic scuba diving skill's to be comfortable in the water and prepared them for the PADI open water course, and know they can move on to the exciting PADI Master Seal Team course where, over 10 pool session's, we will explore all the exciting and different avenues scuba diving can take you.

The course is divided into 10 Aquamissions
1. Creature ID.
How to identify what we see underwater
2. Environment.
How to look after the marine environment
3. Inner Space.
How to control your position underwater
4. Navigation.
How to use a compass underwater
5. Night.
How to scuba dive at night
6. Safety.
How to stay safe while scuba diving
7.Search and Recovery.
How to find treasure underwater
8. Skin Diver,
How to free dive
9. Snapshot,
How to take pictures underwater
10. Wreck,
How to scuba dive on a wreck

U
pon completion of the PADI master seal team course, not only will your child feel confident about their scuba diving abilities and ready to do their padi open water course but also have a much greater understanding of how scuba diving works and we can help look after the underwater environment and why it is important.

TThe PADI master seal team course is only £375 for all 10 Aquamissions and this price includes all PADI materials and Certification upon completion of the course. As an added bonus, because to do the Snapshot aqua mission you will have loads of underwater pictures not only of your child but also that your child has taken




Contact us for more info