The UK's best wreck divesPublished 04/02/2020
Wreck diving is a big draw for most divers, every wreck comes with its own fascinating story about how they got there and their history before the fateful events that lead them to becoming the wrecks we so love to dive, plus they tend to become home to some amazing wildlife. So, I have put together this list of my favorite wrecks dive although I should preface this list by saying that I have not dived every wreck with over 40,000 to choose from but here is the list of my personal favorite wreck dive around the UK in no real order as they all have something special about them.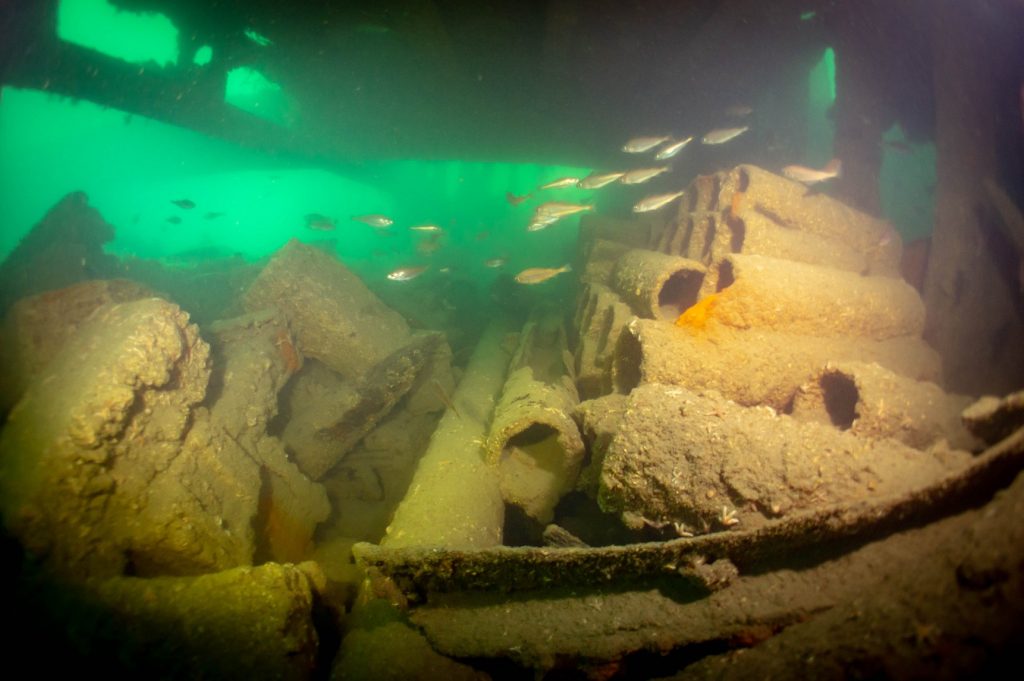 1. James Eagan Layne, Plymouth
The James Egan Layne, a US liberty ship built in By the Delta Shipbuilding Company of New Orleans, at 400 feet long and weighing just over 7000 tons, liberty ships were the work horses of the allied shipping effort during the second world war as they were easy and very quick to build. During March 1945 she was engaged on a voyage from Barry in Wales to Ghent, loaded with United States Army engineering stores. By the afternoon of 21 March the Layne was about seven miles from the Plymouth Breakwater, just on the edge of one of the most profitable of all the U boat hunting grounds. She must have been spotted very quickly because at 2.35 that same afternoon U-boat 1195 hit the Layne with a torpedo, which sliced a great hole in her side. Her holds quickly flooded as did her engine room, but the Layne was not going to sink without a fight. For nearly eight hours the crew kept the vessel afloat, but the Captain realizing that she was finished set course as best he could for the shore hoping to beach her. He very nearly made it. By now the Layne was taking in water faster than the crew could get rid of it. So at half-past ten that night the ship gently went aground in seventy feet of water, snugly held firm on the sandy bottom of Whitsands Bay. Thankfully there were no casualties, and eventually, most of the cargo was salvaged. In the end, the loss to the war effort was minimal, but the gain to the future generations of scuba divers was to prove considerable. You can read more about her story by clicking here
The James Eagan Layne is suitable for most divers with UK diving experience and can be reached out of Plymouth Harbour onboard one of the many dive boats which operate out of there.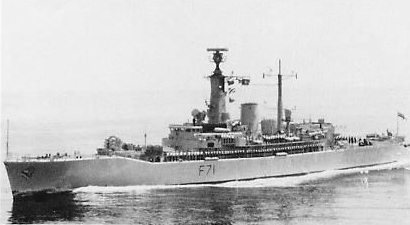 2. HMS Scylla
One of the last warships to be built at Plymouth, Scylla was laid down at Devonport Dockyard in 1967, and launched in August 1968.After her fitting out she was commissioned on 14 February 1970 and went on service in the Mediterranean where she assisted H.M.S. Penelope in underwater noise trials. In 1976 she was involved in the Cod War in the waters around Iceland, and later saw service on the Biera Patrol, Belize, and as the West Indies Guard Ship. At the outbreak of the Falklands war in 1982 Scylla had just started a major refit. But this had to be put on hold as men and materials were reassigned to the battle-damaged ships. So urgent was their need that parts of the Scylla were ripped out and cannibalized to speed up the repairs. Finally, her refit was finished in December 1984 and she spent the next eight months becoming fully operational before taking part in a major exercise codenamed Autumn Train. Later she was a regular member of the Armilla Patrol in the Persian Gulf escorting British Merchant ships through the Straits of Hormuz at the height of the Iran, Iraq war in 1986 – 88.
By the beginning of the nineties, Scylla was obsolete, and in 1993 she was decommissioned and left to rust. That would have been the end of the story except for the intervention of a couple of local divers, Nick Murns and John Busby, who thought it would be a great idea to bring the Scylla back to her home port and sink her over in Whitsands Bay near the James Egan Layne so that she would form an artificial reef and add another diving attraction to Plymouth. They formed the Artificial Reef Consortium and drummed up a lot of support and interest but the project got bogged down in the inevitable tangle of red tape. In the end, the National Marine Aquarium came on board, and the Scylla was bought with the assistance of the South West Development Agency for around two hundred thousand pounds. It took over five years to get all the relevant permissions and to make the Scylla ready to sink, and it is a testament to the tenacity of the two local divers and the Aquarium that the project was brought to a successful conclusion. At last on the 27 march 2004 the Scylla was towed out of the Dockyard and around Rame Head for the last time and slowly maneuvered into position to await the final safety checks. Amongst the crowds in the flotilla of small boats and lining the cliffs, was her last Captain, Mike Booth, who had come to say his final farewell.
HMS Scylla, just like the James Eagan Layne, can be reached out of Plymouth and the two wrecks are often dived often after the other. If you would like more information about the HMS Scylla, please check out this link.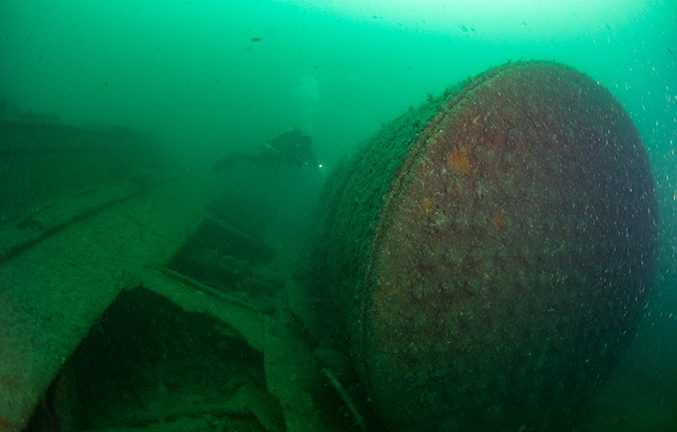 3. The Kyarra
The Kyarra was launched on 2 February 1903, and she proved to be a profitable, successful, luxury liner for the Australian United Steam Navigation Company. The 127m (416ft) long ship also had the capacity to transport 7,164 cubic metres (253,000 cubic feet) of general cargo in her fore deck and aft deck holds. She sailed between Fremantle, Western Australia (where she was registered), and Sydney, New South Wales, carrying both fare-paying passengers and cargo.
Her life changed on 6 November 1914. Eleven years after she had been launched, the Kyarra was requisitioned and leased in Brisbane by the British Government to be a WWI hospital ship. She became HMAT A55, or "His Majesty's Australian Transports." HMAT ships were used to transport various Australian Infantry Divisions to their respective overseas destinations. When they were not transporting military personal, HMAT ships would carry goods to Britain and France.
The Kyarra was painted white, and red crosses were added to her hull to indicate that she was a hospital ship. Her job was to transport Australian medical units to Egypt, and we know she carried a major contingent of Queensland nurses on one voyage.
Five months later, in March 1915, the Kyarra was converted yet again. This time, she served as a troopship and helped land ANZAC expeditionary troops in the Dardanelles. She also saw service in the Gallipoli campaign.
In 1917, the Kyarra became a casualty-clearing ship and had a 4.7in quick-firing gun mounted on her stern as a defense against U-boats.
On 4 January 1918, the 6,953-ton Kyarra was decommissioned —the Commonwealth control lease had ended. Captain Albert Donovan took command of her on 19 January 1918 and readied the ship for a return to Britain.
In May 1918, the Kyarra was in London. She was fully loaded with general cargo worth GB£1,500 (about GB£100,000 in today's money), which was bound for Australia. Items included bottles of champagne, red wine, stout and vinegar, bales of silk and cloth, French perfume, rolls of lino, sticks of red sealing wax, medical supplies, cigarettes, silver purses, men's big pocket watches, and ladies gold wrist-watches. She was also carrying 35 civilian passengers. Her captain, William Smith, had orders which stated that the Kyarra should sail to Plymouth and embark about 1,000 war-wounded Australian soldiers and repatriate them.
On 24 May 1918, she left Tilbury in Essex and zigzagged down the Channel heading for Devonport, Devon. It was to be her last voyage as she had been spotted by UB 57, a German U-boat which was patrolling of the UK's south coast and at sometime early in the morning she was torpedoed at midships. Report of casualties vary from between 4 and 9 people to lose their lives on board but this could have been much worse had she already picked up the war wounded who were supposed to be on their way back home.
The Kyarra can be dived out of Portland and Swanage with both ports offering a number of dive boat options but because of where she is situated she must be dived at Slack water and at 30 metres to the seafloor on which she stands you will normally get around 30 mins tops per dive to explore so it is best to plan a few dives on this wreck so that you can get the best out of her. For the treasure hunters out there you can still find perfume bottles and if you are really lucky, maybe a gold watch or two. In terms of wildlife on the wreck, you will tend to find large schools of pollock cruising around the top with the smaller fish in nice and close to the wreck and don't forget to check out the pipes int eh steam boiler for conger eels of varying sizes.
You can find out more about this wreck with the Kyarra dive tours linked here.



4. SS Mohegan, The Manacles,
The SS Mohegan was a steamer ship built in 1897 and lost when she hit The Manacles reef on 14 October 1898 with the loss of 106 out of 197 on board and her loss lead to a lot of Controversy due to the route she was taking.
There are a number of intriguing mysteries that surround the loss of the steam ship Mohegan on Cornwall's Manacle Reef in October 1898 that no one, as yet, has managed to satisfactorily explain.
The Manacle Reef has sunk many fine ships and claimed many thousands of lives, but the story of the Mohegan is a very sad one for a number of reasons, the first of which is, why was the ship set on a collision course with the reef, and why the captain and crew never seemed to have realised the danger until it was much too late.
In those days, ships entering the English Channel from the Atlantic, bound for Falmouth or beyond, may have been at sea for months and unsure of their correct position or compromised by fog or gales. Consequently, as they entered the part of the English Channel where the Lizard Peninsula narrows their safe passage, and if they were just a little too far north, then they could so easily come to grief on the rocky granite cliffs of Cornwall.
However, the Mohegan wasn't entering the channel after months at sea and unsure of her position, neither was there fog or storm — in fact, the evening was dark but clear, with lights onshore clearly visible from seaward, and the ship was not approaching from the west but running down channel, from the east. The Mohegan was outward bound from Gravesend, bound for New York, had already successfully navigated the narrowest, most crowded part of the channel and should have been on a safe course for America. However, it seems that after passing the Eddystone Lighthouse the course was mysteriously changed, in a mistake or a deliberate act, which set the ship on a more northerly, fatal rendezvous with the Manacle Reef.
At the court of enquiry, ordered by the British Board of Trade, it was suggested that the known magnetic quality of the Manacle rocks had upset the compass, drawing the ship to its doom, but this legendary theory was dismissed when it was established that the course had been set by the captain and it was the course, not the compass, that was incorrect. The court's final decision was that 'After passing the Eddystone lighthouse the wrong course of west-by-north was steered'. However, the court could not offer an explanation as to why the wrong course had been set, and there that mystery remains to this day. You can find out more by following this link.
Having been underwater in the English Channel for well over 100 years the wreck is pretty beaten up and lays mostly flatten now but still has a number of really cool points of interest and the marine life to be found there is amazing. You can dive it out of a number of Cornwall's ports, but I would suggest jumping on one of the boats out of Porthkerris divers who run a very friendly dive centre in its own little cove on the Lizard peninsula.
There are many more wrecks out there but these are currently my favourites and as you may have noticed, these are all on the south coast and this is because this is where I do most of my diving due to being a wuss and liking the warmer waters the south coast has to offer but that's not to say you won't find great wrecks further north, I mean we have the German grand fleet up in Scarpa Flow which is surely a must at some point for every wreck diver. So, with that in mind just remember there is great wreck diving all around the UK and if you would like to know more about wreck diving and how to do it safely then how about the PADI wreck diver specialty, which is run over two days of diving and will teach you how to safely dive wrecks and help you learn ne skills such as laying out lines so you can always find you way back the entrance you came in, which I'm sure you will agree is a rather important thing. If you would like to learn more about the course then please follow this link.