What is the PADI deep diver coursePublished 07/06/2020
The PADI Deep diver course is the PADI course for those who wish to take their recreational diving a bit deeper than the 30-metre limit set during the PADI advanced open water course and upon completion will allow you to dive down to a maximum of 40 metres. Please note that this is not technical diving and does not allow a diver to go beyond 40 metres and if you would like to do that please follow this link to find out more about technical diving.
The extra depth the PADI deep diver course allows you does open up a lot more wrecks and can allow you to explore the deeper parts of a reef not open to most scuba divers, things like the bottom part of the Thistlegorm wreck in Egypt or the bottom sections of the dom Pedro wreck, the largest wreck in the Mediterranean. The thing to remember about diving deeper though is that it will shorten your bottom time and as such does involve better planning of your dives so that you can make the most of the time you have down at depth.


Why do I need the PADI deep diver course

Do you want to see the big 12" guns on the Battleship Kronprinz Wilhelm which lie on the sea bed at 38m? Maybe you would like to see the Giant Sunfish at Cristal Point in Bali which is at 34 metres? How about the Hammerheads on Elphinstone reef in the Red sea? Or, maybe you would just like to know more about going deeper while feeling safer about your scuba diving. There are hundreds of reasons to do Your PADI deep diver course and none that I can think of for not doing it.
What is involved in the PADI deep diver course?

The PADI deep diver course is made up of a dive theory section and 4 open water dive's. during the theory section, you will learn more about the effects depth have on your body and the added risks involved when you dive deeper. With this in mind, we suggest you also look into completing a dry dive at your local hyperbaric chamber, we run these once a year during the winter months and you can see what a dry dive is like by following this link here.
The 4 open water dives will all be below 18 metres with at least one dive being below 30 metres and on each dive, you will complete set tacks to show you the effects the increased pressure have on the human body as well as basic safety skills including doing an emergency safety stop for 8 minutes while breathing from an alternate air source to simulate what you would need to do should you exceed your no-decompression limit and are low on air. The other skills covered in this course include things you might have covered in your deep dive for the PADI advanced course such as the effects the depth has on colour which can be useful for those who enjoy a bit of underwater photography. You may also get to experience the effect know has gas narcosis which is the impairment divers feel at depth and is commonly also known as the Mantini law which states that for every 10 metres of depth the effect is like downing an extra glass of martini. Although not totally actuate it is a good way of putting across the sort of effect that diving to depth can have on the human body and brain.
Although this course is one of the more challenging of the PADI recreational diving courses it is also one of the most enjoyable and every diver we have taught this course to has said how much they have learned and the increased respect they have for deeper diving.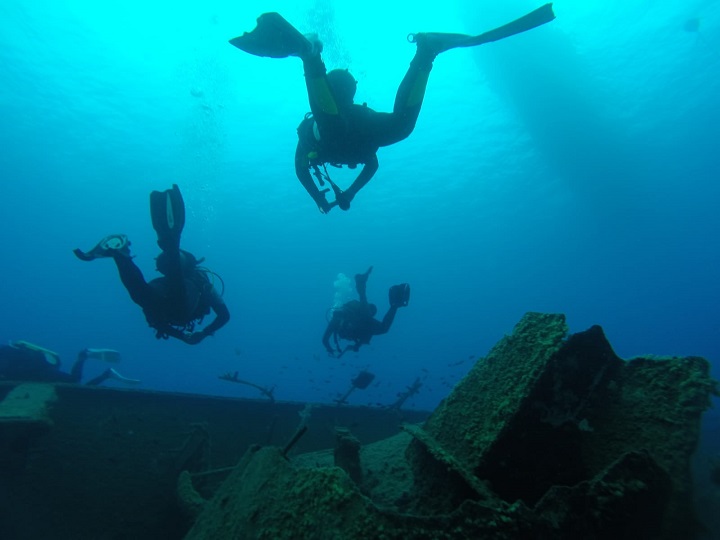 Who can do the PADI deep diver course?

The PADI Deep diver course is open to anyone over the age of 15 and qualified to at least a PADI adventure diver or PADI advanced open water diver level although because fo the risks involved in this course it is also at the instructor's discretion as to who can take this course so you may have to build your experience up and prove you are capable of completing the course before the instructor will allow you to sign up for this course.


How much does the PADI deep diver course cost?

The normal PADI deep diver course should cost between £160 and £200. With underwater adventures, we charge £199 for Non-club members and just £179 for club members and if you would like to know more about the underwater adventures dive club and the benefits it's membership include please check out this like here. Because of the nature of this course, we will also tend to run a PADI deep diver course while on one of our foreign dive trips and these will also have a reduction in the price, plus you get to do the emergency safety stop in warmer water then you will typically find around the UK.


How do I sign up for the PADI deep diver course?

You can find out more information and sign up for the next course by dropping us an email here at underwater adventures through the contact us page (click here) or you can find a course through the PADI website here.
You can also find out more about the PADI deep diver course offered by Underwater adventures by following this link Here